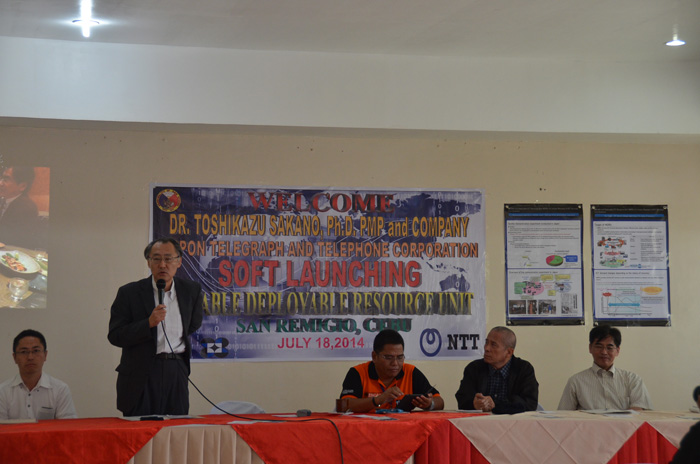 Last July 18, 2014 the Soft Launching for the experiment project "FEASIBILITY STUDY ON RESTORING CONNECTIVITY THROUGH THE USE OF MOVABLE AND DEPLOYABLE ICT RESOURCE UNIT (THE MDRU PROJECT)" was held at San Remigio, Cebu.

Key dignitaries from NTT-Japan and Malaysia and executives from various offices of government agencies and local government units attended the affair.

The MDRU is a quick response ICT equipment/solution that can be deployed immediately to disaster-affected areas. This was first launched and tested by NTT after the Great East Japan Earthquake. It provides ICT services such as internet connectivity, phone services and information system that can be used during disaster or non-disaster instances.

This project is a collaboration of the Central Visayas Information Sharing Network Foundation (CVISNET) with Nippon Telegraph and Telephone Corporation (NTT) of Japan and the Department of Science and Technology Region VII (DOST 7) with the Municipality of San Remigio, Cebu, the pilot for the experiment project.

An attaché-case MDRU unit was brought in from Japan and given to the officials of San Remigio as the initial equipment for the experiment project.

This soft launching is only an initial attempt to show the capability of the MDRU, a more comprehensive event of the MDRU project with expanded sites and bigger equipment will be undertaken in the last quarter of 2014.

Currently the MDRU is installed the San Remigio Community e-Center of headed by Municipal Planning Coordinator Engr. Romarico Cabellon.

CVISNET Executive Director Jeffrey Llanto presented the pilot project and Dr. Toshikazu Sakano, Senior Research Engineer of NTT-NIL, Japan presented the technical details of the project.

San Remigio Mayor Mariano Martinez welcomed the decision to have San Remigio as venue for the pilot project. He said the launch of the project was appropriate, since the municipality was damaged severely by super typhoon Yolanda last November 8, 2013.

DOST-7 Regional Director Engr. Edilberto L. Paradela, DOST-7 Director said, this technology from Japan is the first to be implemented in the Philippines.
The project is a blessing according to Cebu City Councilor Roberto Cabarrubias, CVISNET President.

NTT Network Innovations Laboratory Executive Director Dr. Atsushi Takahara hopes the experiment project will be a success.

Following the Ribbon Cutting and Presentation of the MDRU, Dr. Sakano demonstrated the unit to the public, he asked Mayor Martinez to make a call to San Remigio High School Teacher Ryan Romanillos. San Remigio High School is a designated evacuation center.