The Movable & Deployable ICT Resource Unit
The MDRU project was introduced to restore communications in  disaster affected areas. This started in Japan after the 2011 Earthquake and Tsunami which left communities without ICT service for several weeks.
The Philippine MDRU project was launched in San Remigio, Cebu, Philippines in February 2015 to conduct a one year feasibility and development study.
The objective of the study is to conduct a real world testing on the unit in disaster-affected areas of the Philippines. The goal is to ensure that the MDRU is able to establish an ICT network and services in ample time in order to help supply local communities with immediate ICT services damaged by a recent disaster.
The study is also set to test its suitability to the different climate and conditions for future expansion of the project across the Asian region.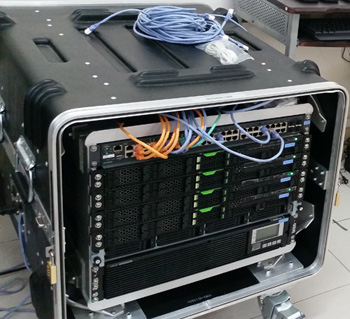 Nippon Telegraph and Telephone Corporation of Japan (NTT) in partnership with the Central Visayas Information Sharing Network Foundation, Inc. (CVISNET) and collaborated with the International Telecommunications Union of the United Nations (ITU), Ministry of Internal Affairs and Communications of Japan (MIC) and the Department of Science and Technology of the Philippines (DOST); provided an MDRU to the Municipality of San Remigio, Cebu, which was affected by Typhoon Haiyan (Yolanda). Haiyan is the strongest recorded typhoon to make landfall and devastated the Visayas region in November 8, 2013. The MDRU has the ability to restore communication and information processing functions that can be rapidly transported to the disaster area and within a reasonable time establish the network and launch ICT services. This comes in three models; Container, Vehicle and Portable Attaché Case. When the units work together they can create a sophisticated ICT network that can cover a wider area. The MDRU can complement existing all-weather and satellite communications and not solely dependent on cellular networks.
Project Scope and Strategy
The MDRU project aims to provide immediate ICT services such as Internet connectivity, phone services and disaster information system in disaster hit areas at low cost with guaranteed sustainability. The unit can also be used during non-disaster time to supply day-to-day phone service, Internet and ICT systems.
Project scope for MDRU Deployment
Real world situation for the MDRU project and have local communities test the unit
Disaster management planning structure for future disasters to local communities
Adequate training to local key members on the uses and functions of the unit
Project feedback to determine the success or failure of the project